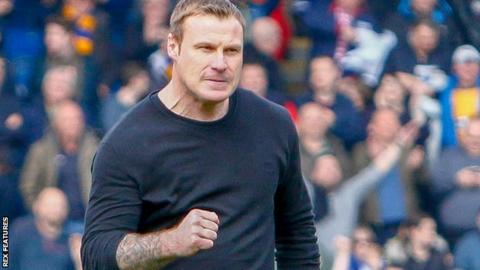 Mansfield boss David Flitcroft has likened the lack of patience shown to managers in modern football to the dating app Tinder.
Tinder users swipe right on the profile of a person they like the look of and left if they're not for them.
The Stags boss was asked about the managerial situation at rivals Notts County, who are on their third boss of the season and travel to Mansfield on Saturday.
"Everyone wants things instantly now," he told BBC Radio Nottingham. "You can put a box set on and watch it for 10 hours instead of waiting for a week for the next episode.
"You used to have to chat a bird up but now you can just swipe left or right on Tinder. It's the way life is. Nobody's got any patience anymore.
"There's no respect for building or time. People just want things now. When I was learning to drive I worked in a factory to save up for my car and for driving lessons but people get them given as Christmas presents now.
"The world has changed, life has changed and everyone wants things instantly and when they don't get it they chuck their toys out of the pram."
Notts County finished fifth in League Two last season under Kevin Nolan but, after a poor start to the 2018-19 campaign, the former Bolton and West Ham midfielder was sacked in August.
His replacement, Harry Kewell, lasted just 14 games before being shown the door in November, with ex-Wimbledon boss Neal Ardley appointed his successor.
Ardley will be hoping for a positive result for his new charges against the Stags on Saturday or he might be the next person County chairman Alan Hardy swipes left on…
%%i