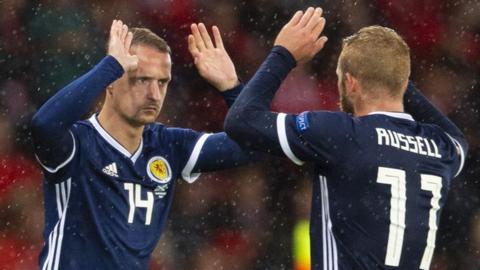 Leigh Griffiths says he has exchanged text messages with Scotland boss Alex McLeish and hopes to be involved in next year's Euro 2020 qualifiers.
The Celtic striker pulled out of the squad to face Israel and Portugal in October to focus on his fitness and was then sidelined by illness and injury.
The Scots will face Belgium, Russia, Cyprus, Kazakhstan and San Marino in Group I.
"There's no animosity between me and Mr McLeish at all," said Griffiths, 28.
"I hope I'm still in his plans. I've said time and time again that there's no bigger honour in football than representing your country and I still feel the same."
Should Scotland not qualify out of Group I, they can still reach the European Championship finals via the Nations League play-offs.
McLeish's side finished top of League C Group 1 by beating Albania and Israel last month.
"Everything's fine," said Griffiths, who has featured in two of Celtic's past three games, scoring once.
"Me and Mr McLeish had a chat. I vented my personal opinion of what I wanted to do and he accepted that. There was no animosity, no anger between either of us. I text him after they won the last two games to get into the play-off and he replied quickly.
"I wanted to concentrate on being fit and then obviously got a niggling injury which stopped my rehab. But, looking forward, I'm more than happy to go back into the Scotland squad if I'm selected.
"I was looking at the draw for the Euro 2020 qualifiers. A good group for that and hopefully I'm involved. That all comes from playing well at Celtic and being involved and getting game time here."
Griffiths loves a challenge – analysis
Former Scotland striker Billy Dodds on Sportsound
He has seen off challenger after challenger at Celtic and he is a really technical, gifted player.
He loves a challenge and he has proved that at Celtic for the last three or four years.
He loves the challenge of getting back in the team and he has got the same with Scotland now but he will relish it.
Former Celtic defender John Hughes on Sportsound
I think we need him. He is the most natural goalscorer we have got in Scotland. He got 40 goals a few seasons ago (in 2015-16) and knowing what he has got, is there a way back for him with Scotland? Of course there is.
But he needs a partner up there. I don't think the lone striker role suits him. For me he is an out-and-out striker. He has got a wonderful left foot and he shoots from anywhere. Once a goalscorer, always a goalscorer.
First and foremost he needs to get himself injury free and back in the Celtic team.
%%i