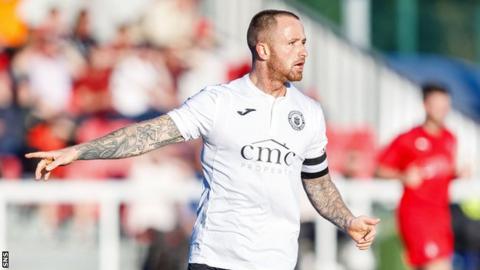 At 20, Josh Walker had already captained an England youth side at the World Cup. He had scored his first senior goal for Aberdeen against Ottmar Hitzfeld's Bayern Munich in the Uefa Cup. He had the world at his feet.
Five years later, he was released by Gateshead on a free transfer. A promising career left in tatters by a series of injuries, poor choices and a lack of patience.
Walker describes his one-year spell with Gateshead as a "depressing time in my life", unable to cope with the reality of what his footballing dream had become.
"I needed help. I was out far too much, I was drinking far too much and I was indulging far too much. I wasn't me," admits Walker.
The 29-year-old is now back enjoying his life again as captain of Scottish League Two side Edinburgh City after a two-year stint playing in India.
Before Tuesday's Scottish Cup third round replay with Inverness Caledonian Thistle, Walker spoke to BBC Sport Scotland about his young days, his mental health issues and getting his career back on track.
'It was never an attitude thing'
Walker captained England from under-15 level all the way up to under-20 level, playing in teams with the likes of Fabian Delph and Jordan Henderson, both of whom have gone on to captain the senior team. He couldn't have asked for a much better start to his club career, either. He won the FA Youth Cup with Middlesbrough as a 14-year-old before making his Premiership debut at the age of 17.
After getting a taste of first-team action he started to crave it, which turned out to be detrimental in the long-term as he sought it elsewhere. Though he enjoyed spells at Bournemouth and at Aberdeen, where he opened the scoring for Jimmy Calderwood's side against a Bayern Munich team containing the likes of Philipp Lahm and Bastian Schweinsteiger, other loan moves were not as fruitful.
The first time I was named England captain it was in the Victory Shield against Wales. Inside I was so proud I just wanted to cry. I couldn't wait to get out there and I loved every minute of it. I thought that might have been my only chance to captain England but I was lucky enough to do it over 30 times. It's something I probably won't fully appreciate until I retire.
Before I signed my contract with Middlesbrough, I pretty much had my choice of any team I wanted to go to but Steve McClaren brought me and my family in and told us his plans for me. There was no better place for me to be at that time. My career started to level out a bit when he left for the England job.
It was never an attitude thing with me. I lived my life properly from a young age. From 11 years old, my commitment and dedication to football was as good as I've ever seen from any kid. I just had an eagerness to play, so when loan moves came up I'd just take them. Looking back, I should have never gone to some of the teams that I went to.
'I was very bitter. I needed help'
Walker left Middlesbrough in 2010. After short stints at Watford and Scunthorpe, with a handful of loans sandwiched in between, he moved to Gateshead in 2013. The midfielder highlights this period as the worst of his career, as he struggled to come to terms with his situation compared to those of his former England team-mates.
I was very bitter. I didn't really watch football anymore because I didn't want to know what was going on. As a kid, my biggest setback was probably being on the bench as a 17-year-old for the first team. So I went from that to playing in the Conference and being a complete shadow of myself. I needed help.
I eventually got it – I spoke to someone quite regularly. To anyone out there who is having a bad time within their sport or work – go and speak to someone. It took me years to build up the courage to do it. It was actually my partner who got it sorted for me. I don't know if I would have done it myself so I'll always thank her for doing that.
Now when I watch England or the Premier League, I'm proud of all those lads I played with. I'm proud to have played with them. I'm so delighted that they've gone on to have the careers that they've had, because they fully deserve it, the lot of them.
'I did manual labour'
Following his release from Gateshead, Walker was signed by Bengaluru FC in India as their 'marquee' player. He credits this move with getting his career back on track and making him a stronger person, but endured yet more disappointment after suffering an injury which led to him being released once more and so he moved to Scotland.
Walker is now part-time, despite previous offers to return to full-time football. He is enjoying his life and has his own coaching business as he hopes to guide football's next generation in the right direction. He's currently recovering from a knee injury, but will return in the next few weeks with Edinburgh City sitting top of League Two and fighting for a place in the final of the Challenge Cup.
India was brilliant. I signed initially for a year and had probably the best season of my career since leaving 'Boro, but then I got injured. I'd gone from flying again to crashing back down to earth. I had no contract and was injured for another six months.
What was I going to do? I thought I was just going to pack it in at times but I didn't. Football is my life. I went and did some labouring and then decided that if I could labour, I could get fit. So I got myself fit and the phone started ringing again.
I'm almost back fit and the lads are flying. We've got a great manager, the club looks after us and do everything for us. The boys are brilliant and we have some really good players here. It's great. I'm now in a fantastic position mentally. I accept what's happened and I appreciate what's gone on. I'll always live with regret, but I can accept that regret.
%%i