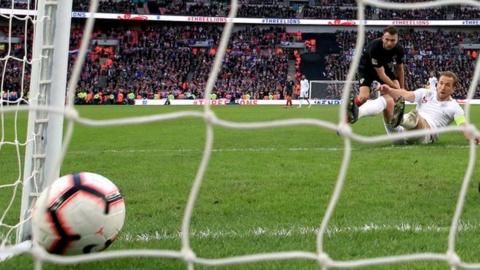 Outgoing Football Association technical director Dan Ashworth is proud of a "culture change" at England after being "sick to death" of hearing how other European nations were better.
Ashworth, 47, is set to join Brighton after six years at the FA, during which England's men's and women's teams both reached successive semi-finals.
Last year, England also won the Under-17 and Under-20 World Cups.
"The biggest thing is putting the pride back into English football," he said.
"I was sick to death of people telling me that French, German, Spanish or Dutch players and coaches were miles better than English ones. I never believed they were.
"One of the things that's changed over the last few years is the perception [of England] across our country and across the world – [people now think] we do have some talented coaches and players.
"That gives me a lot a lot of pride."
Success for England in 2017 also included the Under-19 team winning the European Championship, while Gareth Southgate has led England to the 2018 World Cup and Nations League semi-finals.
Meanwhile, the England women's team finished third at the 2015 World Cup, and reached the European Championship semi-finals in 2017.
Speaking at the FA's Talent ID conference last week, Ashworth said the last two years across all men's and women's England teams were "the best set of results in the world".
'The challenge for young players is getting harder'
Ashworth, who joined the FA in 2012, has overseen a culture change in English football, which he describes as a "belief around St George's Park that we can go to tournaments and win".
But he does not believe that things will falter when he leaves for a similar role at Brighton, with his replacement set to be named before Christmas.
"There is only one person leaving, not a raft," he told BBC Sport. "There are a lot of good people that make things work."
Four candidates are believed to be in the running to replace the former West Brom technical director, who says he wants to return to the Premier League to ensure he does not become "uncurrent" in club football.
They are Wolves sporting director Kevin Thelwell, former FA and Southampton technical director Les Reed, former Rangers and Brentford boss Mark Warburton and FA head of coach and player development Matt Crocker, who has also worked at the Saints.
One of the key issues for the new technical director will be the falling number of English-qualified players getting starts in the Premier League. That figure reached a new low of 53 players last weekend and has seen the likes of former Manchester City forward Jadon Sancho leave for Borussia Dortmund.
The FA is trying to push for an improved quota of homegrown players in Premier League squads.
Ashworth said: "It's a challenge for young players because the league is so strong and unfortunately it's getting worse year on year. Under 30% of starters each week are English qualified, which gives Gareth a pool of about 58 players to pick from."
He also said the number of English qualified women's starters in the Women's Super League had dropped from 80% when he started in 2012 to 57% now, adding: "It's moving quite quickly in the wrong direction from a governing body's point of view."
'I've not changed the culture alone' – Ashworth
Ashworth's time at the FA has not always been viewed in positive fashion.
He was criticised for his part in appointing former England's women's manager Mark Sampson, who was sacked for "inappropriate and unacceptable" behaviour with female players in a previous role.
Ashworth has previously said that "lessons had to be learned" after also being involved in a discrimination row with England forward Eniola Aluko.
The FA had to apologise to Aluko and Drew Spence for racially discriminatory remarks made by Sampson, with Aluko accusing English football's governing body of behaviour "bordering on blackmail".
Reflecting on his overall time at the FA, Ashworth added: "If I was starting again, there are some things that I have left that I didn't think we have done particularly well but I do think there have been some things that have gone well.
"What's changed is the culture that we believe we can go and win in an England shirt, but I know there are so many people that have played a part in that including at grassroots and the clubs.
"If St George's Park and I have played a part then great, but no one person has changed the culture of English football. If they have, it's Gareth."
%%i