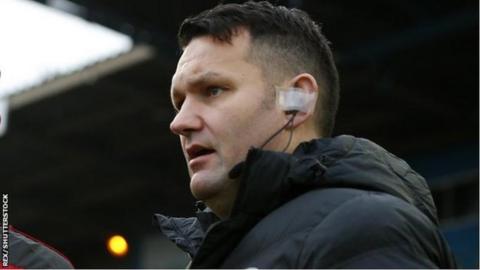 Referee David McNamara has dropped his appeal against a three-week ban for using a game of rock, paper, scissors in place of a coin toss.
McNamara left his coin in the dressing room before a Women's Super League game between Manchester City and Reading.
His appeal was initially backed by the Ref Support UK charity, but it was then reported he had used the method several times before.
"We can confirm he has retracted his appeal," said a charity spokesman.
McNamara has yet to comment on the case, but his suspension was viewed as harsh by many colleagues.
Hundreds of referees at grassroots matches used rock, paper, scissors in support of him last month, believing he had been punished for an innocent mistake.
A coin toss to decide kick-offs is a requirement under the laws of the game.
McNamara accepted a charge of "not acting in the best interests of the game" but was understood to be surprised by the subsequent sanction.
The Football Association has been approached for comment.
%%i