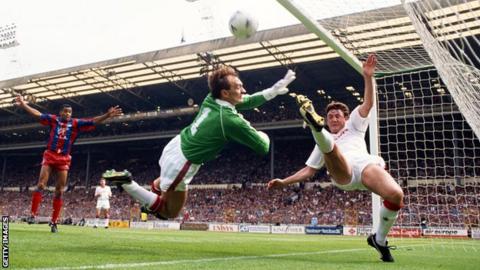 Jim Leighton says he would still refuse to shake Sir Alex Ferguson's hand – 28 years since his fellow Scot dropped him for an FA Cup final replay.
Ferguson took the decision after their Manchester United side were held to a 3-3 draw by Crystal Palace.
United won the replay 1-0 as the manager won the first of his 38 trophies at Old Trafford, but Leighton only made one more appearance for him.
"We've never spoken since and never will do again," the ex-goalkeeper said.
Ferguson had taken Scotland international Leighton with him from Aberdeen, where the pair won nine trophies together.
But the 60-year-old told BBC Scotland that he is not the only member of that Pittodrie squad who has an issue with their former manager.
"The players and Archie Knox, who was the assistant, get together and we have a WhatsApp group," he said. "If he came on it, I would go off it, which is quite sad, but I am not alone."
Leighton had been the only player dropped for the FA Cup final replay, but turned down replacement Les Sealey's offer of his winners' medal. The Scot also sent back his official medal.
"I had been fortunate enough to win quite a few medals up to that time and, unless I could walk up the stairs and wear the hat and the scarf and lift the cup, then I didn't want anybody's charity," he said.
He says his relationship with Ferguson had "got pretty frosty" over the previous six months but it "went to zero" a couple of weeks after the final.
Leighton said there were "a lot of things" he did not like about Ferguson's behaviour.
"He was miles ahead of anybody in terms of knowledge of the game and tactics, but in terms of dealing with people, it wasn't quite the same," he said.
Hampden rant 'lost respect' of Aberdeen players
Ferguson had famously verbally berated his Aberdeen players in an on-field TV interview after their Scottish Cup final win over Rangers in 1983.
The rant came 10 days after the Pittodrie side beat Real Madrid to claim the European Cup Winners' Cup.
"The boys could hardly put one leg in front of the other; Rangers were by far the better team on the day," Leighton said. "But, because the team were as good as they were, that got us through."
Leighton claims Ferguson "made a beeline for me" and "said I was Rangers' best player" before refusing to allow the players to open a bottle of Champagne in the dressing-room.
He said in the interview that they had only won the cup because of central defenders Alex McLeish and Willie Miller.
"Nobody had any resentment towards Alex and Willie, but we all lost a lot of respect that day for him considering what we had achieved 10 days before that," he said.
"He apologised to us the next morning, but the damage had been done for a lot of us."
'Aberdeen have fighting chance'
Leighton also still feels aggrieved about his departure from Aberdeen three years ago, when he was replaced as goalkeeping coach.
However, he insists he and manager Derek McInnes "still get on fine" and that he is "loving" his job as a sales manager.
These days, he prefers to play golf at weekends having "lost interest" in football, but will still be rooting for his former club as McInnes' side face Celtic in Sunday's League Cup final.
"They've got a fighting chance," he added. "The one thing that worries me about Aberdeen at the moment is I don't think they've got enough of a goal threat and Celtic have a goal threat in abundance.
"They were a bit fortunate against Hibs in the quarters and Rangers in the semi-final – and I think they are going to need to be a bit fortunate and ride their luck again in the final."
%%i