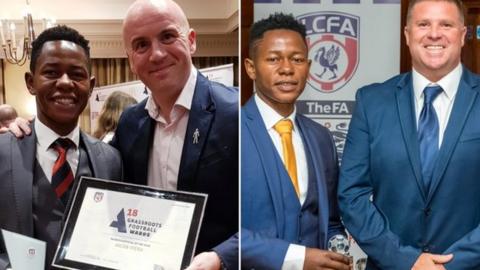 Jacob Viera grew up in Kenya playing youth football for his country.
More than 11,000 miles away and a few years on he is now the Liverpool Grassroots Match Official of the Year, an FA level one coach and an Everton in the Community volunteer.
Jacob's journey to the UK began as an asylum seeker escaping drugs gangs in Kenya after being electrocuted in his own home and hospitalised with serious injuries.
The 22-year-old was on trial with Newcastle United when a youth academy coach recommended he apply for asylum after noticing his scarring and hearing his story.
'I couldn't understand the scousers properly'
Jacob was relocated to Liverpool while his asylum case was reviewed and, despite being fluent in English, he fondly remembers how he "couldn't understand the scousers properly".
Going from park to park with his boots on looking for teams, Jacob eventually found a manager at Wavertree Botanic Gardens who introduced him to Mossley Hill FC.
By making new friends in the city through football, Liverpool soon became his "home away from home".
Jacob admits to being worried about encountering racism in Liverpool park leagues. He experienced it and was disappointed that the referees did nothing.
"I was the only black player and the referee could hear the lad calling me abusive names," he said.
"[When I complained to the ref] he said to me 'mate, are you here to play or to be a ref?'
"I decided to embarrass the lad calling me names.
"Every time I got the ball I would nutmeg him or go past him and by the end of the game the crowd cheered me every time I got the ball. It made me stronger."
'It took me three days to believe it'
Playing football with local clubs led to one of the managers recommending Jacob to Paul Tait, manager of the Everton academy Under-18 squad.
"It took me me three days before I could believe that was a reality," Jacob said.
However, Jacob's pending asylum status prevented him from signing any contracts, and he was dealt a further blow as an anterior cruciate ligament injury curtailed his progress.
Everton's outreach programme 'Everton in the Community' continued to support Jacob during his rehabilitation, sponsoring his coaching and refereeing courses.
'Turning my life around through football'
It was through Everton in the Community that Jacob met one of his best friends in Liverpool, Lee Johnson.
Lee manages a number of the outreach programmes at Everton, including the sessions for refugees, asylum seekers and the homeless.
And he's had his own journey to get there, having been homeless himself for 18 years fighting addiction.
The Whitechapel Centre in Liverpool supports homeless people, and Lee joined their football team while using their services. They won the Spirit of Liverpool league, and Everton offered them coaching.
"When we won the league nine years ago at Goodison Park," Lee recalls, "I couldn't pick up the trophy because I was in a rehab centre."
"The man who coached us is still my boss. He was the first to see me turning my life around through football."
'Who thought I could make a friend like Lee?'
Lee's passion for football and community work saw him complete his rehabilitation and now he helps others through football.
He has overcome funding issues to ensure initiatives continue because of his belief in football.
"When the lads come to play football you interact with people from all backgrounds, you make friends you wouldn't make," Jacob explains.
"Who would have known that I would have met Lee and become good friends with him?"
Lee is hopeful for a positive resolution to Jacob's asylum application that remains with the courts.
"Jacob and I go to games together and have a great friendship," he says.
"I want him to be my right-hand man running these community initiatives with me."
%%i