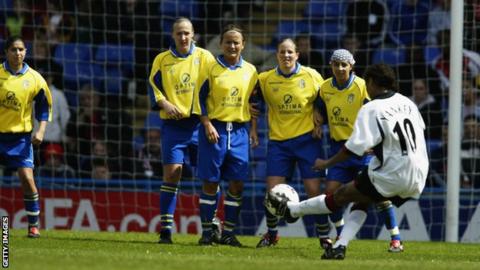 An amateur side enjoying one of this season's last-remaining 100% starts, a record international goalscorer and two clubs who used to regularly compete for major silverware will all feature in the Women's FA Cup second round on Sunday.
Prize money of £900 is up for grabs for each of the 20 clubs who progress to round three, plus the prospect of moving a step closer to Wembley and facing teams full of international stars.
With Women's Super League and Women's Championship sides entering from the fourth round in February, the remaining amateur and semi-professional outfits are just two wins away from a potential meeting with full-time opposition.
As the road to the final on 4 May continues, BBC Sport looks at some of the clubs preparing for Sunday's ties, including a clash between the six-time winners and the 2008 runners-up.
'Famous names' – Leeds v Doncaster Rovers Belles
Leeds United and Doncaster Rovers Belles were finalists in the cup as recently as 2008 and 2002 respectively, with only Arsenal having reached more finals than the trailblazing Belles' 13.
On Sunday, fourth-tier Leeds will host third-tier Belles in the second round, 10 and a half turbulent years since they both enjoyed top-six finishes in English women's football's top flight.
"It's two famous names in women's football and everyone is looking forward to the tie," Leeds manager Dan O'Hearne told BBC Sport.
"It's a really good draw for the club. Obviously both teams have had a bit of a fall from grace but hopefully Leeds are on the way back up. Donny are in a transition period, with a lot of young players, but this has great pedigree for the FA Cup."
United, whose ties with Elland Road were cut by former Whites chairman Ken Bates, were brought back within the Leeds family by the Championship men's club owner Andrea Radrizzani in 2017.
Now Leeds, who have won 11 of their 15 matches in all competitions so far this term, are offering free entry for the tie at United's Thorp Arch training ground near Wetherby.
Former Sheffield United boss O'Hearne added: "Donny Belles will play in the right manner. They like to pass the ball and try and play, like we do. They'll start as favourites because they're in the league above, but we're at home."
Controversies, league-leading favourites and a football 'boat race'
The highest-ranked sides competing in the second round are third-tier North leaders Blackburn Rovers and South leaders Coventry United, who host Plymouth Argyle.
Rovers, who have won 10 league games from 10 so far this term since narrowly missing out on promotion to the Championship in the summer, are away to Wolves.
But other sides are looking to the cup to trigger an upturn in form, including Sheffield FC who – like the Belles – competed in the second tier last season before dropping down to tier three for financial reasons.
"This weekend is an exciting distraction from a tough league campaign," said Sheffield FC manager Kyle O'Reilly, whose side are 11th in the National League North and face Nottingham Forest on 2 December.
"For a lot of the squad, it will be their first appearance in the cup, and for those accustomed to it, there is a fresh optimism and hope of venturing into the deeper rounds. It won't be easy, but nothing worth achieving ever is."
Elsewhere, Sunday will see a meeting of 'boat race rivals' Oxford United and Cambridge United, after the latter reached the second round in unusual fashion.
They were originally beaten by their lower-ranked neighbours Cambridge City in the first round, but the match was ordered to be replayed after a complaint that City's pitch had been too small.
United won the replay 2-0, a result that finally stood after the Football Association dismissed a further complaint – this time from City – that United had fielded an ineligible player.
Wasps aim to keep flying high
What do Arsenal, Blackburn and Crawley Wasps have in common? They all have 100% records in all competitions so far this season, with Crawley eight points clear at the top of National League Division One South East.
They host west Sussex rivals Chichester City of the third tier on Sunday, and Wasps boss Paul Walker said: "With two in-form squads, it has the makings of a super cup tie.
"Both sides are flying high in their leagues. I believe, with the squad we've got, we could be competing comfortably in the league above. The squads are going to be extremely well-matched."
Crawley's former Brighton & Hove Albion defender Charlotte Young added: "It's really important that we keep the momentum going and see what happens when we get tested as a squad.
"We're very close as a group and the squad gel so well, but we want to be tested to see where we need to improve."
At fourth-tier level, players typically pay to play, and Crawley are no different. But Young – who featured in the 2017 WSL Spring Series with Brighton – sees similarities across the pyramid.
"Football is something we do as a hobby alongside our careers, but you'll also see we have the same level of commitment," she continued. "The pitches might be boggier, but the level of passion is the same."
Watford 'adapting well' to life outside second tier
In men's football, Premier League Watford and Western League club Buckland Athletic are separated by 181 places in the pyramid. If they were to meet in the cup, no commentator in the land would be able to get through the tie without uttering the names 'David and Goliath'.
Yet such is the open, competitive and unpredictable nature of the women's game – third-tier Watford Ladies and fourth-tier Buckland Athletic Ladies are just 15 league places apart ahead of their game on Sunday.
The Hornets competed in the previously-named WSL 2 last season but they were unsuccessful in their licence application to remain in the division.
But life in the National League is going well so far, with Watford third after seven league wins, but striker Helen Ward, 32, insists they will not be complacent against Buckland.
"We're probably favourites being in a league above, but they're going to want a scalp and it's a cup game so anything can happen," Wales' record goalscorer Ward told BBC Sport.
"We had a bit of a rollercoaster last year and lost a lot of players, but it's been a period of rebuilding and the coaching staff have done a fantastic job. We're adapting well.
"For some of our girls, playing in their first senior seasons, it'll be their first game in the FA Cup. But the FA Cup is a really special competition that everybody all over the world knows about. As soon as you hear the words 'FA Cup' everybody gets a bit excited."
Second-round fixtures in full
Sunday, 2 December (all times 13:00 GMT unless stated):
Sheffield FC v Nottingham Forest
Leeds United v Doncaster Rovers Belles
Huddersfield Town v Bradford City
Sunderland v Fylde
Chester-le-Street Town v Stoke City
Middlesbrough v Stockport County
Bolton Wanderers v West Bromwich Albion
Guiseley AFC Vixens v Derby County
Keynsham Town v C&K Basildon
Loughborough Foxes v Gillingham
Billericay Town v Luton Town
MK Dons v Southampton
Watford v Buckland Athletic
Crawley Wasps v Chichester City
Long Eaton United v Hull City (14:00)
Wolverhampton Wanderers v Blackburn Rovers (14:00)
AFC Wimbledon v Portsmouth (14:00)
Oxford United v Cambridge United (14:00)
Coventry United v Plymouth Argyle (14:00)
Cardiff City v Queens Park Rangers (14:00)
Women's FA Cup 2018-19
Remaining round dates
Prize fund for round winners
Second round: Sunday, 2 December
(20 teams) £900
Third round: Sunday, 6 January
(10) £1,000
Fourth round: Sunday, 3 February
(16) £2,000
Fifth round: Sunday, 17 February
(8) £3,000
Quarter-final: Sunday, 17 March
(4) £4,000
Semi-final: Sunday, 14 April
(2) £5,000
Final: Saturday, 4 May
Runners-up: £15,000; Winners £25,000
%%i