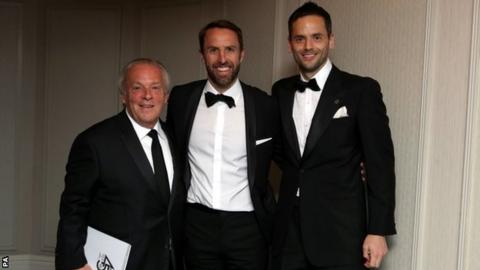 The Charity Commission says it will be "engaging" with the Professional Footballers' Association "to establish the facts", amid criticism of PFA chief executive Gordon Taylor.
The watchdog told BBC Sport it had become "aware of concerns regarding the expenditure" of the PFA charity, which helps support past and present players.
On Wednesday, Taylor announced a "full and open review" into the organisation.
Taylor said criticism "must not be swept under the carpet".
The latest PFA Charity accounts reveal 'staff costs' of £4m, but there is no further detail given about how that sum is broken down and elsewhere in the accounts it is stated that "no salaries or wages have been paid during the year".
In separate PFA general fund accounts for 2017-18, Taylor's remuneration comes to a total of £2,020,393.
When asked if Taylor's salary was paid, either directly or indirectly, via the charity fund, the PFA declined to comment.
Taylor, who has been the leading figure in the players' union for 37 years, has been criticised recently, including by chairman Ben Purkiss.
More than 300 current and former players have also reportedly signed a letter calling for Taylor to resign.
A spokesperson for the Charity Commission told the BBC: "We are aware of concerns regarding the expenditure of the Professional Footballers' Association Charity and we will be engaging with the trustees to establish the facts.
"Trustees should be able to demonstrate that all decisions around expenditure have been carefully considered in line with the best interests of their charity and those it is set up to help.
"The public rightly expect charitable funds to go to causes they are set up to support. As regulator we expect all charities to carefully steward funds in the best interests of their charity in order to maximise their benefit to society."
In an open letter to PFA members, Taylor said on Wednesday: "We owe it to you, our members, to hold ourselves to the highest possible standards. We believe we do.
"It is important that we are transparent, committed to constantly improving and restless in our mission to support you.
"We will, therefore, be recommending to the PFA's board of trustees and management committee that an independent QC conducts a full and open review into the structure and operation of the PFA as the trade union for professional footballers in England and Wales."
Purkiss said last week that the PFA will become "obsolete" if it does not "evolve" and called for a review to modernise the organisation.
He said communication with players and mental health were two keys areas for improvement with change needed to better serve "modern footballers".
Taylor said the organisation had "listened" to criticism and had "taken the time to think carefully about what is in the best interests of our organisation and our members".
"I have dedicated the last 40 years of my life to professional football," he said.
"I am extremely proud of the work we do, supporting our members, whether that's through training and coaching programmes, or promoting diversity and equality in the sport.
"I am happy to defend our record including on issues such as mental health, diversity and player welfare, but I am the first to admit there are always areas we can improve."
'There is a lot of good work that is done'
Jon Walters, who is on loan at Ipswich Town from Burnley, is on the PFA management committee.
Speaking on BBC Radio 5 live on Wednesday, he said: "There's been a bit of mob rule over the weekend on social media and I don't like that.
"There's a reported 200 or 300 names that have signed the letter and I would like to see those names. How many of those players have a grievance with the PFA to do with certain things like tax-avoidance schemes and felt the PFA did not back them?
"The independent review will be transparent and someone will say what's good and what's bad. Being in there, I know there's a lot of good work done and know how much work we do.
"It can only be welcomed that he [Taylor] has asked for an independent review and for transparency – that's how it should be. The PFA do not self-publicise, we're there to serve members.
"When we are doing research into a programme like dementia, we employ the experts from a different field and they say 'we need x amount' and we pay them x amount.
"We have 3,500 current members and more than 50,000 ex-members so it is less than 0.5% [who have reportedly signed the letter] but it's not good enough.
"We should be filtering every problem but we do a lot of good work. To have this small amount that have a grievance shows there's a lot of good work that we actually do."